Schmalz Story
Formed in 1910…
Schmalz is now one of the world's leading providers of vacuum technology for automation, handling and clamping technology. Our international network supports companies at home and abroad, providing you with real competitive benefits thanks to our expertise and many years of experience. Expert system consultants are there for you from the first planning steps to the commissioning and assembly of your system and beyond. You can look forward to working with a reliable and trustful partner that sets new benchmarks in your production processes with vacuum technology and impressive solutions with the highest degree of technical innovation and functionality.
Innovative vacuum technology: from single components to system solutions
With individual vacuum components ranging from suction pads to special grippers to vacuum generators, Schmalz has a hugely diverse product portfolio that can be precisely tailored to a variety of requirements. As well as this range of individual components, the portfolio includes Schmalz vacuum gripping systems, which are available as large-area or layer gripping systems and suction spiders. Their modular design gives these complete and ready-to-connect systems maximum flexibility for custom application.
Vacuum handling systems from Schmalz simplify work processes and ensure gentle and efficient handling of work pieces, while our clamping solutions offer precise and reliable clamping functions tailored to your requirements.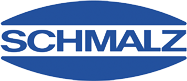 Vacuum Handling Equipment